5. When your dining dollars run low, you get depressed. Between going to Starbucks and Chick-Fil-A everyday those $325 can go by really fast. Then you'll start budgeting and soon stick to eating Ramen Noodle, which is a good meal for all college students, or you might just go to the dining hall and eat pizza and burgers all the time.
4. Raising Canes is your only option sometimes. Raising Canes is basically the last place to close. If you get hungry at 1am on a Saturday you'll just have to stick with some chicken from Raising Canes.
3. You know what time it is when you see porta-potties everywhere. When you see porta-potties, tents, and people cleaning just about everything on campus, then you know game day is approaching.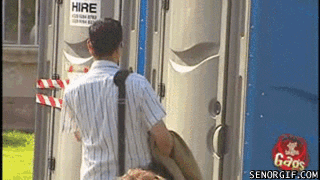 2. They cut the grass just about everyday. Waking up to someone cutting the grass is the best way to wake up isn't it? I'm sure the grass doesn't grow that fast for them to cut it every 2 days.
1. Can't go a day without hearing "Roll Tide". The professors might say it at least once in class. Some even put it on a test. Anywhere you go in Tuscaloosa, you will hear Roll Tide