17.) The Porcelain Warrior & Mushu (Mulan)
Ingredients:
Porcelain Warrior
Cherry Sake
Lychee Syrup
Mango Vodka
Mushu
Absolut Peppar
Sriracha
Pepper
Depending on where you live the ingredients for the Mushu will more than likely be easier for you to find than the ingredients for the Porcelain warrior, but that little shot definitely has what it takes to put a fire in your belly. The Porcelain Warrior, on the other hand, is more of a sophisticated drink for college students with access to an Asian market.
Recipe credit: Cocktails by Cody
16.) Super Wario (Super Mario Land 2)
Ingredients:
2 oz. Vodka
1/2 oz. Lemon Juice
Huckleberry Soda
Frozen Mangos
Garnish with Lemon Peels
This is my drink of choice anytime I am kicking back and plotting to sabotage a friendly plumber.
Recipe credit: the Drunken Moogle.
15.) Nick-eloaded
Ingredients:
5 oz. Orange Vodka
5 oz. Peach Schnapps
5 oz. Amaretto
5 oz. Midori
5 oz. Sweet & Sour Mix
5 oz. Orange Juice
5 oz. Cranberry Juice
A Splash of Grenadine
All That, Rugrats, Doug, Two Angry Beavers, Catdog, Keenan & Kel, the list goes on and on. When it comes to 90's kid pinnacles, Nickelodeon reigns supreme, so naturally I couldn't make a cartoon inspired article without celebrating the holy grail of nostalgia.
Recipe credit Complete Recipes.
14.) Articuno (Pokemon)
Ingredients:
2 oz. Hpnotiq
0.75 oz. Gin
0.25 oz Lime Juice
Club Soda to fill
Gotta catch a buzz! Who doesn't love Hpnotiq? Check out this legendary mixed drink next time you are in the mood to kick back. But don't drink and drive…if you get pulled over you might have to say all 151 (original) Pokemon backwards.
Recipe credit: the Drunk Pokedex
13.) Penelope Pitstop (Wacky Racers)
Ingredients: 
1.5 oz Light Rum
1 oz. Amaretto
0.5 oz Cream de Noyaux (or Grenadine)
0.5 oz Goldschlager
2 oz. Pineapple Juice
2 oz. Pina Colada Mix
Whipped Cream
Red Sparkles (found in cake decorating aisle)
Cherry
Wacky Races was arguably one of the best Hanna Barbera shows of all time, and now there is a drink to honor one of the prime icons of the television series, Penelope Pitstop. Just because the show is about racing doesn't mean you have to race to finish the drink, but that sounds like fun as well.
Recipe credit: Hampton Happy Hour
12.) The Incredible Hulk
Ingredients:
2 oz. Hpnotiq
2 oz. Hennesy
Sometimes less is more, although I will admit I didn't expect to say that in reference to the Incredible Hulk. Just to be safe, don't mix this for anyone who has been known to "Hulk out."
Recipe credit: See My Drink
11.) Finn & Jake (Adventure Time)
Ingredients:
Jake
1 oz. Bubblegum Vodka
1 oz. Peach Schnapps
Orange Juice
Finn
1 oz. UV Cake
.5 oz. Cherry Vodka
Splash blue Curacao
Milk
Adventure Time is the quintessential show for any millennial hipster to enjoy on a Saturday morning. Kick back a few Finn and Jake inspired shots and then go on an adventure of your own!
Recipe Credit: EXP Bar Online
10.) Snake Eyes (Nightmare Before Christmas)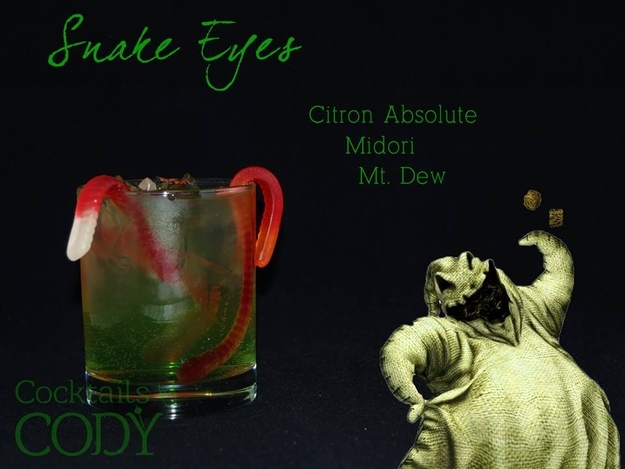 Ingredients:
Citron Absolute
Midori
Mt. Dew
Gummy Worms
I'm not jokin' Oogie Boogie, this is a legit Nightmare Before Christmas cocktail! Mix up a special batch of snake and spider brew for your next Disney themed party.
Recipe Credit: Cocktails by Cody
9.) The Eeveelutions (Pokemon)
Holy crap, that is a lot of booze! If I were a lazier person I could easily make this entry 9-1, but lucky for you there are still 8 more drinks on the list! If you ever played the games, you may have faced the tough decision of what you want your Eevee to become. Luckily, in the real world, the only limit is your alcohol tolerance!
Recipe credit: Geekologie
8.) Spiderman
Ingredients:
1 tsp Grenadine
1 measure Blue Curacao
1 measure Vodka
Pro tip: Make a few of these, watch your favorite Spider Man series or movie, and take a shot every time Spidey says something sarcastic.
Recipe credit: Cham Cham Guide
7.) Spyro
Ingredients:
2 parts Blue Caracao
2 parts Cranberry Juice
1 part Fireball Cinnamon Whiskey
Spyro the Dragon was always one of my favorite games as a kid, I just always had trouble flying through those damn hoops. Surely having a few of these will help me navigate that level, right?
Recipe credit: the Drunken Moogle
6.) Wolverine (X-Men)
Ingredients:
1 bottle Beer
2 oz. Lemon Rum
Wolverine is an avid drinker in the show and series, so what better way to celebrate the man than drinking in his honor!
Recipe credit: iDrink
5.) Capri Sunburn (90's kid essential)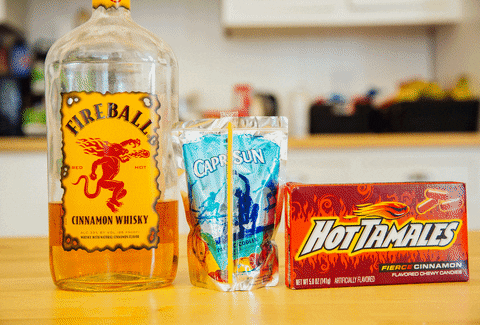 Ingredients:
1 Capri Sun
1 Hot Tamale
pour to fill Fireball
I know, I know, it isn't a cartoon. But you know you used to love Capri Sun.
Recipe Credit: Thrillist
4.) Minion (Despicable Me)
Ingredients:
Vodka
Peach Schnapps
Pineapple Orange Banana Juice
wrap the glass in 1 row of black tape and attach 1 or 2 Googly eyes
If you like your drinks with a little more pizzaz to them, try this highly decorative Despicable me inspired cocktail. Add googly eyes to your glass to give it a true minion look. The link below has a video tutorial.
Recipe Credit: Movie Mixology
3.) Evil Minion (Despicable Me)
Ingredients:
Triple Sec
Blue curacao
Coconut Rum
Cranberry Juice
Purple Cotton Candy (for hair)
Wrap the glass in 1 row of black tape and attach 1 or 2 googly eyes
Another over the top Minion cocktail!
Recipe Credit: Movie Mixology
2. The Little Mermaid
Ingredients:
Blue Layer
3/4 oz. Blue Curucao
1 oz. Orange Vodka
Ice
Green Layer
3/4 oz. Midori
3/4 oz. Pineapple Juice
3/4 oz. Coconut Rum
Ice
Red Layer
3/4 oz. Spiced Rum
1/2 oz. Grenadine
Ice
Drunk swimming later? Try a sea themed beverage to go with it!
Recipe Credit: the Tipsy Bartender
1.) Metroid 
Ingredients:
1/2 shot Bacardi Big Apple Rum
1/2 shot Coconut Rum
1/2 glass Kiwi Strawberry Minute Maid (or Kool-aid)
a little less than 1/2 glass Sprite
3 Strawberries
If you enjoyed killing these things as much as I did when you were a kid, then you will love killing a glass or two of them now.
Recipe Credit: the Drunken Moogle