We are known for having the best drinking games online. Ever since the dawn of alcohol, us humans have been thinking of new ways to spice it up a little bit with some friendly competition…or in some cases just a set of rules. Whether you are tossing ping pong balls or quarters, drinking games are a load of fun, but in this day and age there are so many drinking games out there it can be kind of hard to keep up. University Primetime decided we would take it upon ourselves to round up some of the best drinking games from around the web, to save you the trouble.
20.) Drinko
This game is perfect for fans of the Price is Right. Drinko combines the rush of getting drunk with the pure bliss of doing almost nothing. You just can't beat that!
19.) Russian Roulette Shots
We have all seen the game Russian roulette played in movies before (usually in some shady location in a dimly lit room.) Now you too can enjoy the classic game except with alcohol instead of bullets, which is much preferred in my humble opinion!
18. ) Buzzed Bands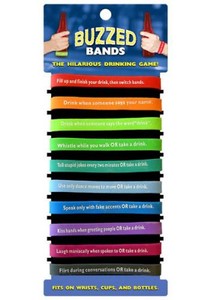 Buzzed Bands is another super easy game, except for this one also allows you to do silly stuff and watch others act like fools as well. The rules are simple; place a band around your drink and act out the task on the band every few minutes. Once a player has received the band that says "Fill up and finish your drink, then switch bands" 3 times the game is officially over.
17.) Tic Tac Toe
Which one of your favorite childhood games CAN'T be turned into a drinking game? None of them. The answer is none of them.
16.) Sobriety Test
If easy drinking games aren't really your style, then Sobriety test definitely is. This game is basically field day for adults…with beer of course. Engage in jump rope, baton twirling, a rope loop, and being blindfolded. Uhhh…sign me up?
15.) Shot Glass Chess Set
So maybe you sat on the bleachers in gym class, that is okay, you don't have to be an athlete to get wasted. Take your opponents pieces and make them drink. It is almost unfair when you think of it, considering if you take a few pawns or something early on you can get your opponent slightly drunk, thus giving yourself a handicap. Oh well, shot glass chess is the perfect (and possibly only) way to combine intellect and inebriation!
14.) Juiced Drinking Dice Game
Roll the dice. Do what it tells you. Sometimes you just can't beat simplicity.
13.) Spin the Shot Glass
This one may very well be the simplest drinking game on the list. Spin. Drink. Spin again.
12.) Boozeball
Everyones favorite break room time waster is now also a dorm room student waster.
11.) Battle Shots
Another childhood favorite turned debauchery aid, Battle Shots combines naval warfare with hard drinking. Sink your opponents ship (or shot, rather) and then they have to drink it!
10.) The Pokemon Drinking Game
"I wanna be the drunkest guest, like no one ever was
walking straight is my real test, to party is my cause!
Pokemon, gotta drink em all!"
I don't know if those were the real lyrics but if you were ever a fan of the show as a kid i highly recommend printing the board out and playing this amazing drinking game.
9.) Q-Cups: Truth or Dare Edition
Most everybody owns a smart phone nowadays and these cups take advantage of that in an interesting way. Q-Cups is a variation of the classic "Beer Pong" game; every time you score, your opponent scans their cup and is provided with a truth or a dare. Not only does it get you drunk, but it keeps everyone from just choosing truth over and over again.
8.) What the F*ck

This game is one of those "holy shit i don't want to answer this" type of games…which are always tons of fun for everyone. Answer bizarre questions about yourself and then if your opponent can guess your answer you have to drink, otherwise they do! Also this game can host over 100 players, not that any of us have that many friends outside of Facebook.
7.) Drunken Tower
Jenga with booze. Nuff said.
 6.) Drinking Darts
Why get drunk and then play darts when you could save valuable time and energy by just doing both at once? Throw a dart, then follow the instruction you hit. (Disclaimer: If you get drunk and hit someone with a dart, don't follow them…that's creepy.)
5.) Drinkapalooza
Drinkapalooza is an incredible board game that combines beer pong, flip cup, quarters, and your typical roll the dice move your piece style board game. In this game you play as a 6 pack and you have to travel around the board filling your 6 pack with bottles, playing various drinking games, and dishing out sips to friends or yourself. There are also special spots on the board that force you to do other key things from drinking games such as "waterfall" or "make a rule."
4.) Inflatable Beer Pong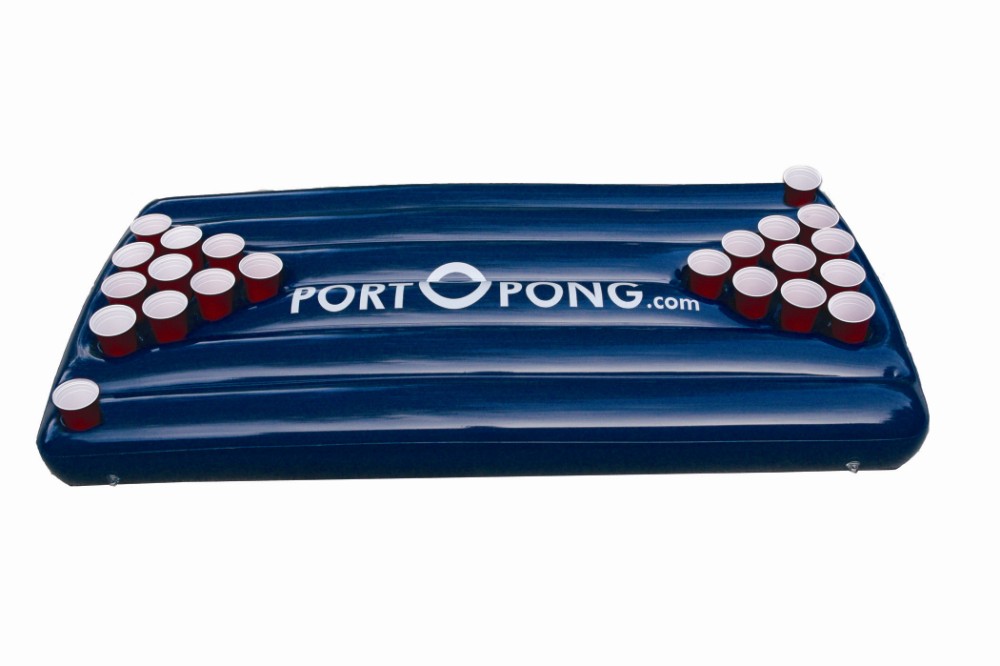 You can't beat the classics, beer pong has littered college campuses with red solo cups as long as your dean can remember, and now you can bring that joy to the pool with you. Just make sure you institute a strict no cannonball rule to avoid chlorine in the brew!
3.) Megapongo Beer Pong 
Megapongo gives you the ability to play beer pong ANYWHERE. This item is ideal for events like tailgating, music festivals, camping, and anything else you could think of. Obviously the design doesn't allow for bouncing or anything of that sort, but that is a very small price to pay for the mobility Megapongo brings to the table (pun intended.)
2.) Drinkopoly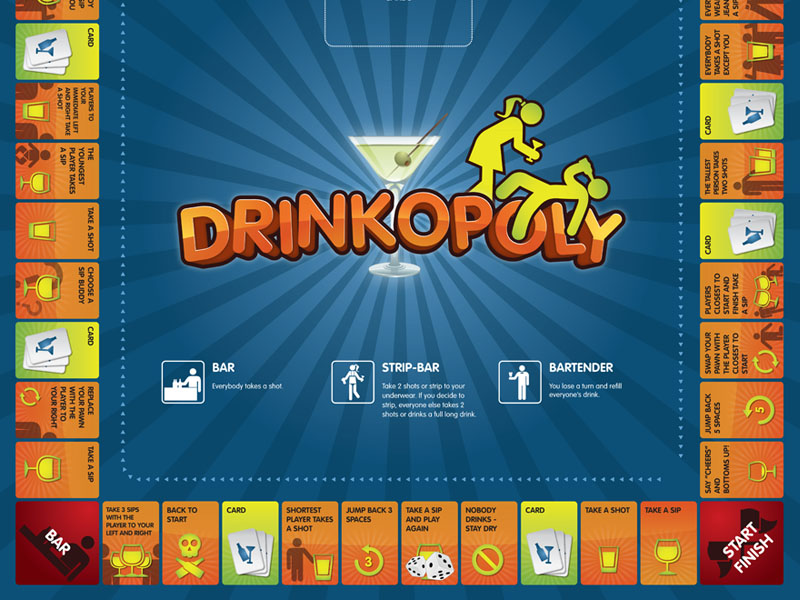 Drinkopoly is a little more R-rated than most of the games on the list. This game follows the typical roll the dice move your piece format of many other board games out there, but with game cards like "simulate your favorite sex position with another player and then take 2 shots" and "do a body shot" you can rest assured that it is anything but average.
1.) Polish Horse Shoes
This game pits two teams of two against each other in a game that requires precision, balance, and drinking. Each team of two stands behind their sticks and takes turns throwing the Frisbee at the beer can. If the can hits the ground you score two points, if the Frisbee hits the ground you score one, and if they both hit the ground you score three. Each team also has to hold a drink in their hands at all times, try not to spill it, and face point penalties if they do.