Ben & Jerry's is one of the most consumed ice cream producers in the United States, but what a lot of people don't know is that these guys are also amazing in every sense of the word! Even though Ben & Jerry no longer technically own the company they are still highly involved in the workings of the company and ensure that their core values are upheld. In other words, not only are they awesome, but they intend on remaining awesome.
10.) Ben & Jerry's Starting Pay Is Double the Minimum Wage
The company is pretty committed to social justice, and paying their employees is no exception. For any of Ben & Jerry's Vermont employees, pay is recalculated every year to ensure it meets a livable wage. Wages for employees are currently a little over double the states minimum wage.
9.) Ben & Jerry Have Stated That They Would Like To Make a Marijuana Infused Ice Cream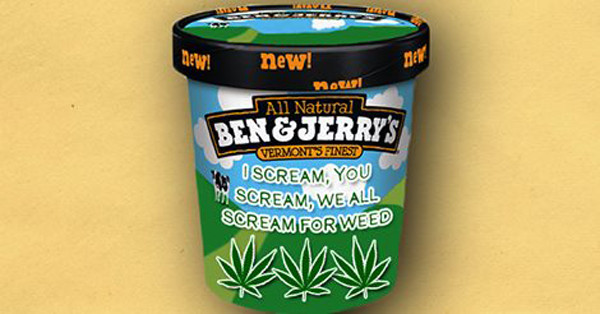 Founders, Ben Cohen and Jerry Greenfield, stated in an interview that they would be open to making marijuana infused ice cream where it is legal. Greenfield is quoted as saying, "Ben and I have had previous experiences with substances and, you know, I think legalizing marijuana is a wonderful thing rather than putting people in jail for not hurting anybody else. And I'm very supportive of that." Although the two would like to see these two pleasures  combined, they no longer make these kind of decisions within the company, and there are currently no plans to make "special" ice cream.
8.) Their Amazing Headquarters
The Ben & Jerry's headquarters is reminiscent of Willy Wonka's Chocolate Factory, complete with $1.00 ice cream and shakes! All of the interior walls are curvy to liven the place up a bit, and as you can see from the picture above, you can use a slide to get from the top floor to the bottom if you so choose. The building is also dog friendly and apparently it is not uncommon to see many dogs throughout the day. They also have a "flavor graveyard" to commemorate fallen flavors (none of the original flavors they opened with still exist today.)
7.) Employee perks
What could be better than having a slide at work? How about three free pints of ice cream a day?! That is right, Ben & Jerry's employees get three pints of delicious ice cream just for showing up to work. There is also an employee gym at the office, just in case anyone feels the need to work the treats off.
6.) More Cowbell
In 2012 Ben and Jerry's along with Jon Fishman (the drummer from Phish,) led the worlds largest cowbell ensemble. In doing this, they managed to raise $20,000 for The Waterwheel Foundation, which specializes in environmental cleanup projects. Phish and Ben & Jerrys have been partners for 18 years now and a lot of the proceeds from "Phish Food" flavored ice cream go towards various causes.